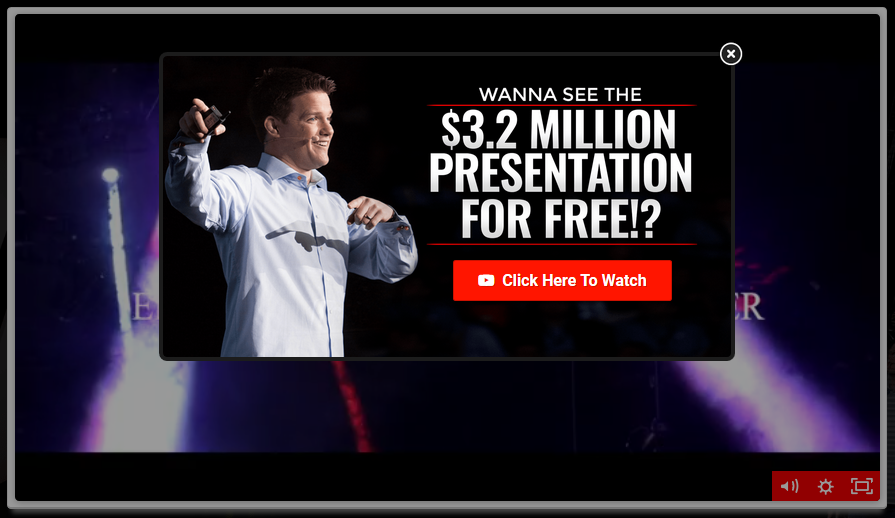 What is 10x Secrets Masterclass
It was just last February when Russell Brunson stepped on 10x Growth Con's stage to talk about his product – ClickFunnels. There were 9,000 people in the arena who listened to Russell speak for an hour and a half.
Russell's goal was $3 million in sales under only 90 minutes. To his surprise, he even went above his target.
10x Secrets Masterclass reveals how Russell Brunson accomplished this amazing feat. How did he sell $3.2 million worth of ClickFunnel sales in just under 90 minutes?
The Internet's Biggest Entrepreneur – Russell Brunson
Russell Brunson is the internet's biggest entrepreneur and the mind behind ClickFunnels. He has built an outstanding reputation in the sales field and has garnered the support and admiration of millions of other entrepreneurs. He has also written books which have sold hundreds of thousands of copies.
Russell started as an entrepreneur when he was at the young age of 12 and has then already discovered the importance of good marketing and sales. He opened his first online business when he was still in high school and since then continued to grow successfully. Now, he has a net worth of approximately $37 million.
How Does it Work?
It has definitely worked for Russell Brunson himself and to those he has helped in their careers. The methods and secrets that he uses has served him greatly in all his endeavors especially in sales and marketing.
For some time now, entrepreneurs have struggled finding the right formula for success. There are still some that do not know where to start or what method to use. Expenses after expenses are what they experience from their troubles. They hire all sorts of help – writers, coders, marketers, and the like. Still, at the end of the day, success is in far sight.
This has been very evident lately. There are businesses out there that have been up for years and are still running, but have been generating the same income they've maintained since the day they opened.
10x Secrets Masterclass aims to eliminate all the hassle and unnecessary expenses caused by the lack of a good method… or the right method. It introduces a new way of marketing and advertising and a better approach to the online world.
Online entrepreneurs have been looking for solutions or at least subconsciously. Fortunately, 10x Secrets Masterclass will soon be available on the 6th day of November.
What to Expect?
The 10x Secret Masterclass includes the different strategies Russell Brunson used to accumulate $3.2 million in sales under 90 minutes. It is a 6 hour course containing all these strategies and are to be explained in detail.
There were people in the 10x Growth Con who have received the tutorial already. This was after the successful sales that he decided to give participants in the event an exclusive 6 hour session. He talked about the different factors to be considered to have successful sales.
If you watched the 10x Growth Con, maybe you witnessed the energy shown by Russell on stage. It seemed all natural with the great flow and engaging content. However, it was all staged, choreographed and well-scripted. Everything was planned.
There was psychology behind everything that he said, sentence by sentence, word by word and even how he structured his talk. He was interacting with the crowd asking them for commitments. He was talking at a certain flow and a certain pitch. There was order in what he said and a specific structure. The talk was 90 minutes long but throughout, the audience were "all in."
These were the things that he used to deliver a great talk that earned him millions in less than two hours:
Psychology.
Micro-commitments.
Structure.
Script.
Chronology.
These are also what you can expect in the 10x Secret Masterclass 6 hour course. All in all, it's a good in-depth course that can give you tons of knowledge you didn't know existed before.
Why 10x Secrets Masterclass?
10x Secrets Masterclass targets all types of entrepreneurs and anyone who wants to make money online. It's a comprehensive guide that aims to help entrepreneurs in every way possible to grow their business 10x.
Russell Brunson himself is a living product of the methods discussed in 10x Secrets Masterclass and it has earned him millions.
Russell Brunson's books have sold hundreds of thousands of copies online like his very own ExpertSecrets and DotComSecrets. His books have generated positive feedback from their readers too.
Pros and Cons
Pros
• It's suitable for all entrepreneurs, big or small.
• Tried and tested by now successful people.
• Conceptualized by a trusted and successful entrepreneur.
Cons
• Its price hasn't yet been announced.
• There are no reports of a printed version.
• It may only be in a digital copy.
My Verdict
Russell Brunson is an expert marketer and a very successful entrepreneur who has earned millions at his young age. That alone shows how reliable and positive what his 10X Secrets Masterclass can offer besides the positive feedback he received from those who have received the training.